The commitment that USG has to sustainability goes back to the company's origins over a century ago. But it doesn't just take environmentally conscious building materials to truly do your part.
The USG Ceilings Recycling Program was created to help USG and its customers in preserving the earth's natural resources. By recycling ceiling panels into new building materials, USG aims to prevent reusable jobsite materials from being thrown into landfills where they so often end up.
There are many far-reaching effects for those who take part in the Ceilings Recycling Program:
Benefits to the Customer
The Ceilings Recycling Program is an easy and cost-effective way to dispose of old panels. Not only can you save time and money by reducing trips to the dumpster and landfill fees but recycling old panels can also minimize space limitations on the jobsite. As an added benefit, it is possible to contribute towards LEED v4.1* points by utilizing USG's extended producer responsibility program; learn more here.
Benefits to USG
Creating the Ceilings Recycling Program allows USG the opportunity to offer new ceiling products with higher recycled content by collecting our customers' recycled waste. This reduces the overall demand for natural resources that many manufacturers in the construction industry face.
Panel Recycling Best Practices
For the best results when participating in the USG Ceilings Recycling Program, follow these tips to make sure that USG can process and recycle your panels back into new building materials:
Ensure that all ceiling panels are approved for take-back by USG
All panels and pallets must be clean & dry with no debris
All panels must be neatly stacked, no higher than 4' tall on 4'x4' pallets
Transportation and pickup of your panels can be coordinated by contacting your USG representative
A signed Recycling Agreement between the owner or owner's representative and a USG sales representative is required before pickups will be arranged or paid for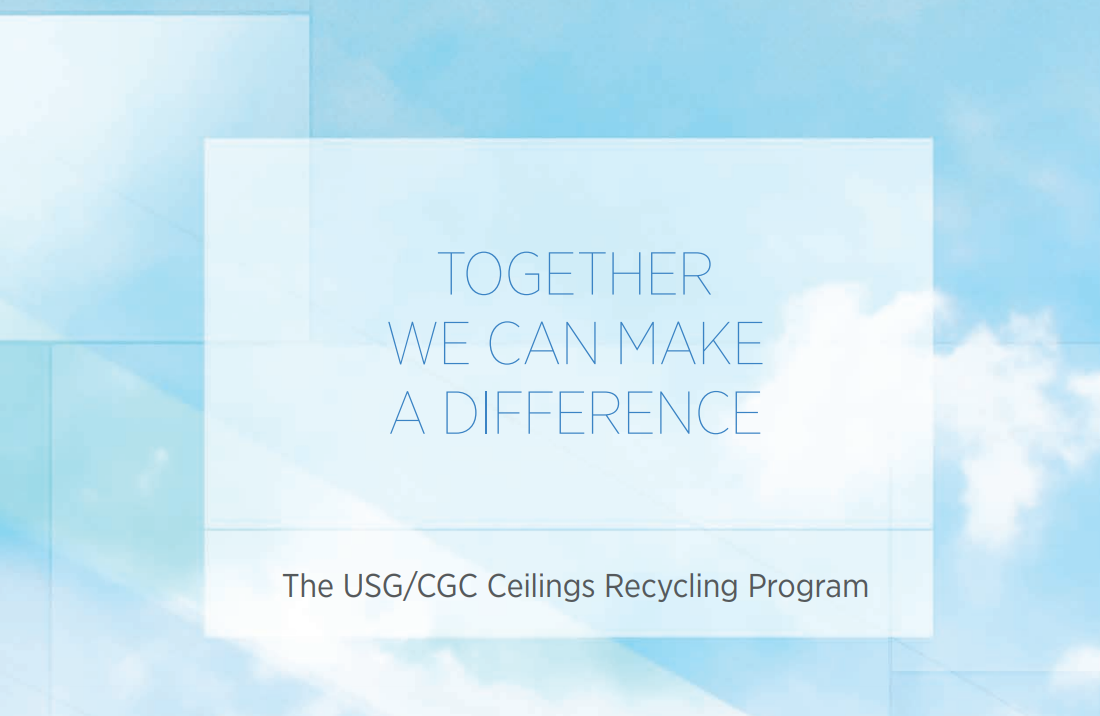 Additional information on the Ceilings Recycling Program can be found here.
*Materials and Resources: Building product disclosure and optimization—sourcing of raw materials (MR c3)