The Maria Elena Sifuentes apartment complex project in Chicago's Albany Park neighborhood was originally slated to be a poured concrete design over a metal deck. Since the project was situated in the middle of a busy neighborhood with limited space, achieving a poured concrete solution would have required precise scheduling of additional trades, concrete, and pump trucks. This is already a challenging task and coupled with the tight quarters of the city streets, it becomes a more expensive task. After initial delays, the project team made the decision to turn to USG STRUCTO-CRETE® Brand Structural Panels, which not only allowed the general contractor to catch up on their schedule but also lowered overall costs compared to the poured concrete solution.
One of the accessible features of STRUCTO-CRETE® Panels is their ease of installation; anyone who can hold a screw gun can install these panels. This allowed the project to utilize the same trade that installs framing and drywall to also install STRUCTO-CRETE® Panels, which can be easily cut with common tools like a circular saw. Since the apartments could be built faster with STRUCTO-CRETE® Panels with no curing time and not dependent on weather, it also enabled the project to streamline the sequencing of trades. Electrical contractors and plumbers were able to come in right after the panels were installed.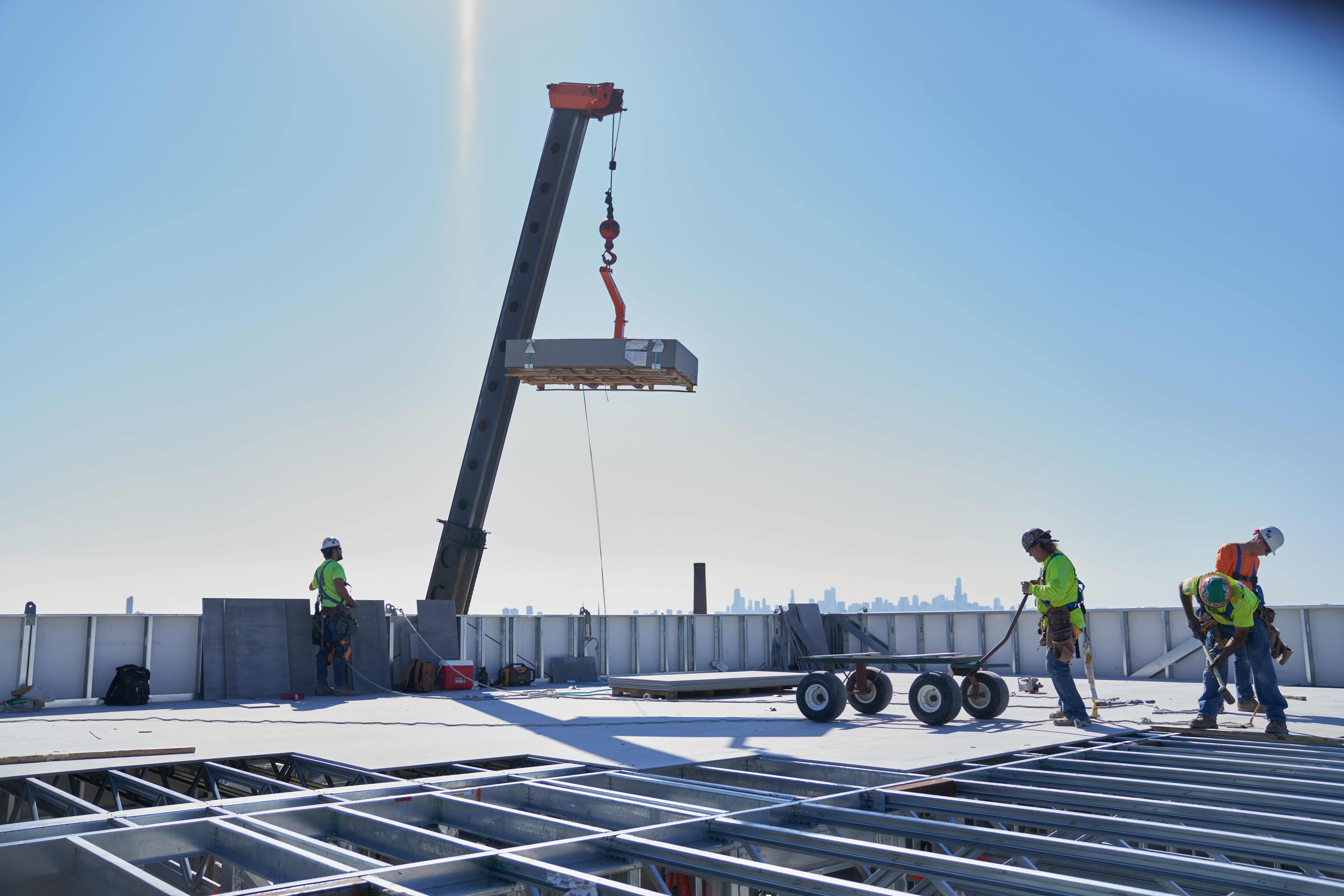 STRUCTO-CRETE® Panels can even make all-weather construction less of a hassle. Thanks to its homogeneous composition, even when the panels get wet, there will be absolutely no damage to the panel.
"This product really checks all the boxes for this project," said Ryan Miller, Manufacturers' Representative for Architectural Building Solutions. "It's faster, all-weather construction, single trade, and [considering] the space in which we are confined, [USG STRUCTO-CRETE® Panels] allow for a much easier building process."
The USG Solution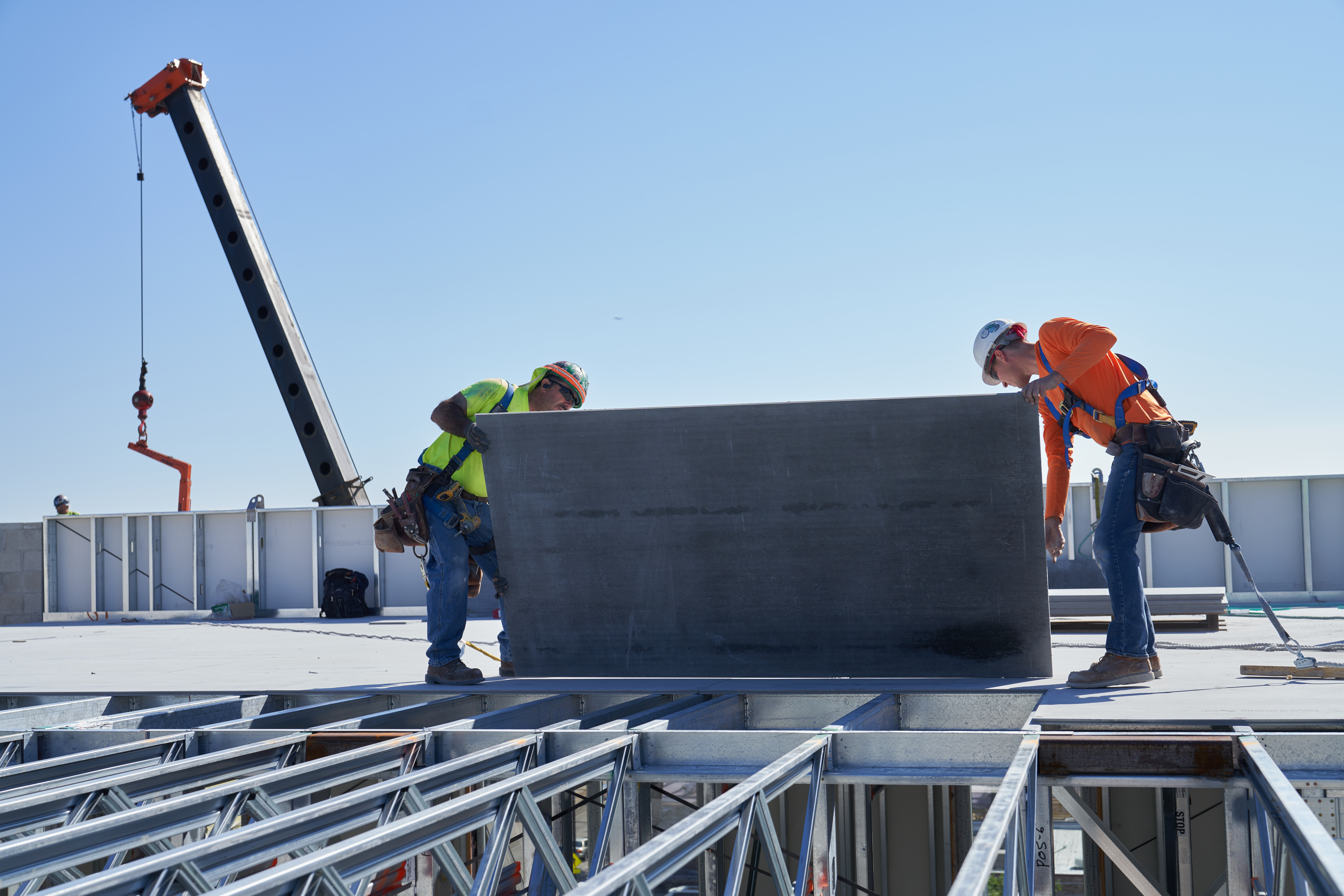 STRUCTO-CRETE® Brand Structural Panels
STRUCTO-CRETE® Brand Structural Panels are noncombustible, inorganic, and mold-, moisture-, and termite-resistant. The panels are cured in-factory and dimensionally stable for use in subfloor assemblies for many floor finishes and are the only noncombustible cementitious structural panel manufactured in the United States.
STRUCTO-CRETE® Brand Structural Panels meet the full criteria of ASTM E136 for use in all types of noncombustible construction. Numerous 1-, 2- and 3-hour fire designs are available for modular, panelized, and conventionally constructed buildings to meet virtually any application. The panels are easily cut with standard framing tools, rapidly applied using mechanical fasteners, and require no adhesive for installation.
STRUCTO-CRETE® Brand Structural Roof Deck Panels
STRUCTO-CRETE® Brand Structural Roof Deck Panels can be combined with other noncombustible materials to create 1- and 2-hour fire-rated roof-ceiling assemblies. This roof deck solution is the only cementitious structural panel approved by Factory Mutual (FM) - FM Approval Standard 4472.
These panels can be applied with mechanical fasteners to serve as a structural substrate for direct-, mechanically-, or adhesive-applied roof systems. STRUCTO-CRETE® Brand Structural Roof Deck Panels are an innovative technology designed to provide a structural roof sheathing without the need for thermal barriers, pouring, setting, or curing, which resolves the latent moisture issue commonly found in roofing with poured concrete.
To learn more about the STRUCTO-CRETE® Brand Structural Panels portfolio, visit usg.com/structocrete.
Maria Elena Sifuentes Project Details:
Architect: UrbanWorks in collaboration with Assemble Design Workshop
Structural Engineer: Thornton Tomasetti
General Contractor: Clark Construction Group
Subcontractor: RG Construction  
Manufacturer's Representative: Architectural Building Solutions