For a ceiling system that delivers on acoustics, aesthetics, and productivity, there is no other system like the USG Ceilings Plus® Barz® Modular Acoustic Ceiling.
This customizable ceiling solution is a fully accessible, panelized cassette system with outstanding acoustical performance that opens new dimensions in ceiling design. Preassembled in factory with any size and spacing of linear components, this system simplifies jobsite delivery with ultra-lightweight panels that allow easy installation and accessibility.
With the ability to adapt to even the most exacting installation requirements, including third-party integration of lights, speakers, and sprinklers, both the design flexibility and first-rate acoustic performance of USG Ceilings Plus® Barz® deliver an uncompromising ceiling solution for any project and any space.
Perfect for Tenant Improvement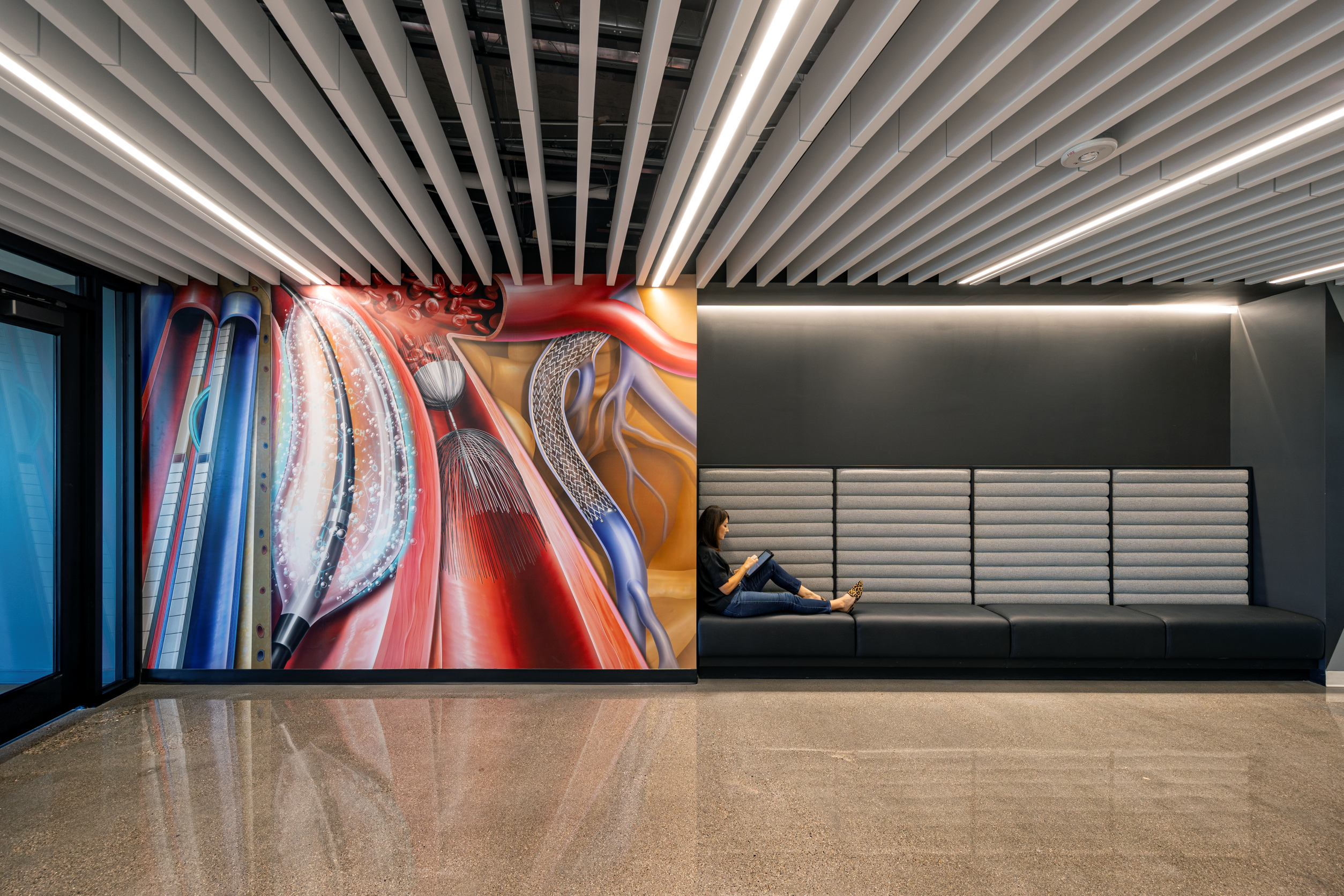 Becton, Dickinson, and Co. Offices in Tempe, AZ—Finish: Blanco Mat®—Architect: SmithGroup Phoenix—Sub: Barrett Homes—Photo: ©Kevin C. Korczyk
On a recent tenant improvement project, the owner of BD required an acoustic ceiling solution with uncompromising aesthetics on a tight turnaround for their new office. USG, along with SmithGroup and Barrett-Homes Contractors, knew that efficient coordination and collaboration would be the key to success for this fully customized ceiling system.

Despite the time constraints, many different aspects needed focused attention. Clean, linear lines would be the focal point of the design, but field measurements for the layout of the linear metal and PET baffles would not be a possibility based on the schedule. An added challenge was the open plenum ceiling that had to be incorporated into the design of the space. The lack of mineral fiber to aid acoustic performance as well as raw concrete and exposed deck in certain areas necessitated an all-encompassing design. Exposed anchors, suspension wires, lighting, HVAC, and sprinklers would all need to be accounted for to achieve the design's clean aesthetic.
As a result, USG worked closely with the project designer to produced detailed layout drawings and small mock-up samples to provide a greater scope of the project. This enabled each of the individual trades to gain familiarity with the design requirements before installation began, translating to an accurate and integrated solution per the designer's intent. 
With approximately a month and a half left to complete installation, crews were brought in to begin installing the baffles. Under normal circumstances, a lack of coordination among subcontractors could derail the project, and fortunately, these crews were already briefed on the layout. Once the products arrived on the jobsite, the installation was already prepared to begin.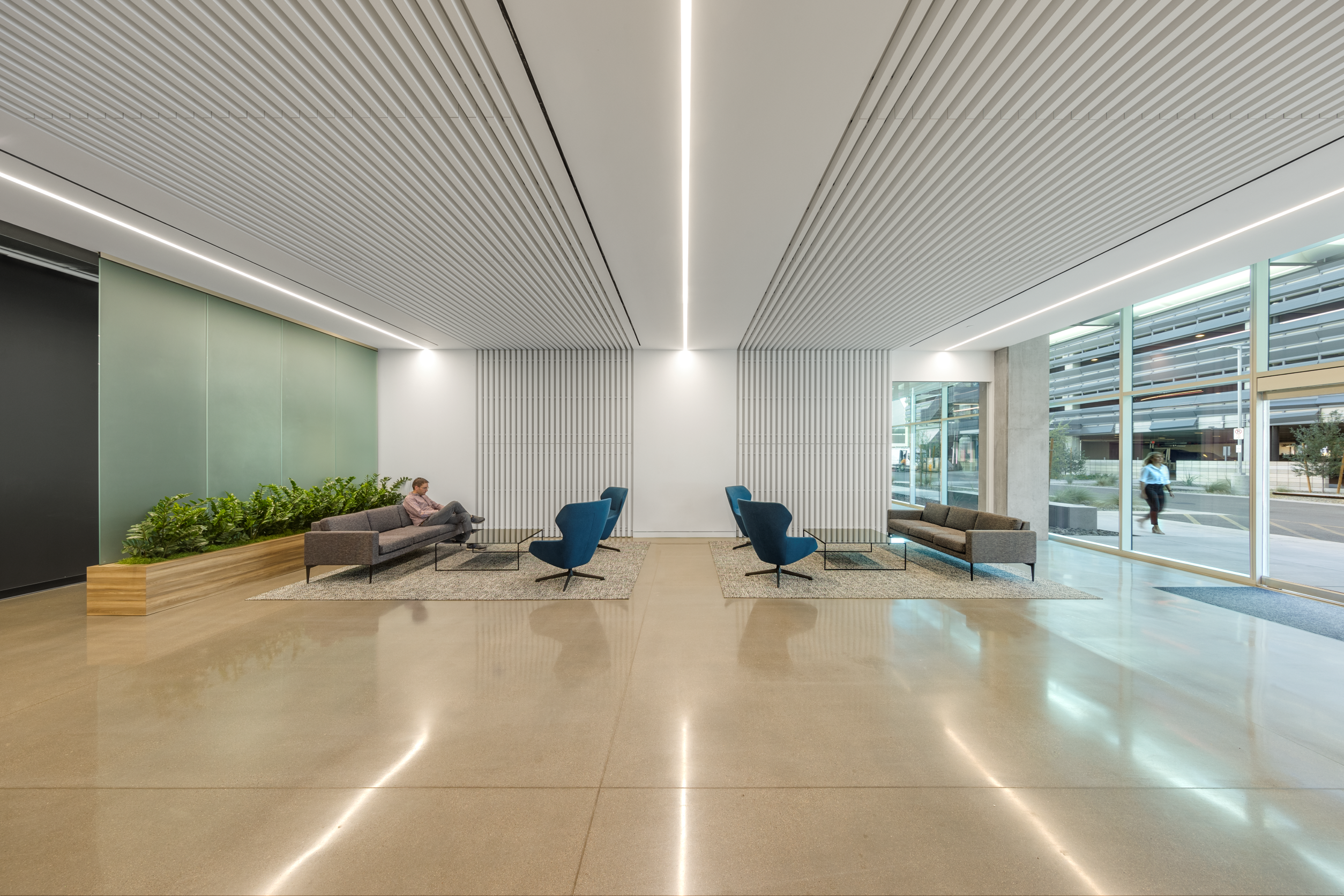 Becton, Dickinson and Co. Offices in Tempe, AZ—Finish: Blanco Mat®—Architect: SmithGroup Phoenix—Sub: Barrett Homes—Photo: ©Kevin C. Korczyk
The unique factory cassette-mounted baffles of Ceilings Plus® Barz® eliminated the need to mount each baffle individually, creating precise alignment between baffles and adjacent materials without relying on field measurements. Further increasing their workability, each modular cassette can be easily removed and reinstalled for maintenance access without impacting system integrity.
The detailed shop drawings were perhaps the most crucial aspect in the success of this project. Without the luxury of measuring a finished space, every detail had to be accurate to ensure a seamless appearance between adjacent materials. Only through the efficient collaboration between architect, manufacturer, and ceilings subcontractor could ensure this build was done right the first time without unforeseen delays.
The delivery of this fully detailed, modular system despite unique scheduling would not have been possible without a well-devised plan. Only through a fully coordinated effort coupled with superior product performance and flawless installation was USG and team able to power through adversity for a winning project build.