USG has been a leader in the roofing industry for decades, with a commitment to innovation and customer satisfaction that has built trust in our product portfolio. With a range of high-quality roofing products designed to make customers' lives easier, USG Securock® Brand Roof Boards has remained at the forefront of the roofing industry, continuously introducing new technologies and materials to push the industry forward.
Building a History of Innovation
USG strives to introduce breakthrough, transformational solutions for the industry. In the last decade of our innovation history, lightweight technology became a focus in product development to ensure the materials supplied to USG's customers are easy to install, easy to handle, and more importantly, help increase speed of installation and improve overall efficiency.
USG has one of the largest roof cover board portfolios in the industry, and it has been designed to maximize productivity for contractors. There is a cover board for any commercial application, including a facer-free gypsum board that allows adhesive to spread easily across the surface, assemblies that utilize less fasteners while achieving the same wind uplift rating as competing cover boards, and UltraLight technology. Our lightweight cover boards are also 18% lighter than competitive products which allows crews to work safer and faster while driving efficiency on the jobsite. With a lighter overall weight per panel, you can send more product on a truck, leading to less trucks on-site and less time spent unloading product.
Innovation and sustainability are closely tied together, especially at USG. By constantly questioning how to use materials more effectively and efficiently, it allows USG to be more environmentally conscious while having real impacts on the customer down to the jobsite level. Reducing our carbon footprint is a very important step towards combatting global warming, but for more immediate effects on USG's customers, lightweight technology not only reduces weight and helps use less material with quicker, safer installation, but it also reduces the contribution to carbon emissions and cost to transport materials to the jobsite with a fleet of freight trucks.
Customer Satisfaction Guaranteed
USG has always taken a stance of "customer first." It is extremely important for USG to understand customer needs and pain points. We invite customers to our Corporate Innovation Center in Libertyville, IL to interface with our scientists and technical engineers so they can gain firsthand insights from customers and get a complete understanding of what can make their lives easier. From this point, USG then works to find solutions.
Lightweight technology is yet another example of this due to the physical toll that installing heavy roofing materials can have on the human body. When customers come to USG and express their pain points with handling materials, it can directly lead to and inform the basis of our innovation. This open expression of customer needs allows USG to work with the customer towards real solutions that make a difference.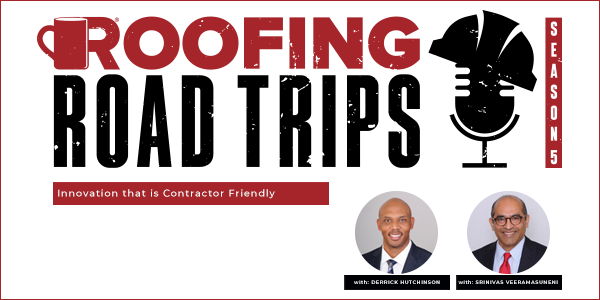 Click here to learn more about USG's commitment to innovation in the roofing industry in this recent episode of the RoofersCoffeeShop podcast, "Roofing Roadtrips," hosted by Heidi J. Ellsworth and featuring special guests Dr. Srinivas Veeramasuneni, Chief Technology Officer at USG and Derrick Hutchinson, Director of Sales, USG Roofing.