USG's selection of metal and wood ceiling panels provides eye-catching and high-performing solutions to any space and has long been a favorite of builders and architects alike. Featuring a variety of finishes and limitless configurations, products like the Paraline® Baffles Linear Ceiling System and True® Wood Panels can offer any project a unique, acoustical approach to ceiling systems.
Paraline® Baffles
For the ultimate design flexibility in suspended linear metal systems, the Paraline® Baffles Linear Ceiling System is a choice worth making. This system features unsurpassed ease of installation along with endless configuration options that make building dynamic ceilings easier than ever before.
Designed and engineered with the limitless design opportunities in mind, here are a few of the features of the Paraline® Baffles System:
5 standard finishes and unlimited painted color options
9 standard perforations and custom perforations available
6 standard lengths, custom lengths, and field cutting
Acoustical performance up to 3 Sabins
Ease of installation, with easy reconfiguration and plenum access
True® Wood Panels
Achieving superior acoustic performance with the aesthetic beauty of wood is possible with True® Wood Panels. The natural wood veneers of these panels bring any space the dignified appeal of real wood ceilings coupled with superior fire resistance and sound performance.
USG True™ Wood Panels install on a traditional suspension system and provide a clean, uninterrupted wood ceiling with complete access to the plenum in addition to the following features:
100% FSC® Certified, which can help maximize LEED point contribution
Class A fire rating per the requirements of ASTM E84.
2'x2', 2'x4', and linear standard panel sizes
6 standard plank sizes
Duke University Project
Both of these ceiling products were utilized in a recent project at the prestigious Duke University's Pratt School of Engineering in Durham, NC. Paraline® Baffles and True® Wood Panels were key components in realizing the grand design of the new Wilkinson building, which welcomed students for the first time this Spring 2021 semester after two years of planning and construction.
After securing this project, one of the largest Paraline® Baffle projects that USG has specified to date, the Ceilings Solutions Group was contacted to provide sales with technical assistance on the project. The Ceilings Solutions Group is often utilized when a standard product is being used in a non-standard manner, and they would be a crucial asset in producing the shop drawings that would bring the grand design of the Wilkinson building to life.
It was determined that the project would require two custom-sized baffles to accommodate the sheer number of baffles required, many of which were field-cut. The hanging system was devised to be a combination of standard grid and attachment clips. The open plenum layout that the design called for is a visually impressive and trendy option in commercial spaces, but its exposed structure leaves a lot to be desired in terms of acoustic performance.
Thankfully, with a concerted effort from the USG and the Ceilings Solutions Group, Paraline® Baffles and True® Wood Panels found harmony in acoustic management and aesthetic beauty, matching the esteem of the university that calls its campus home.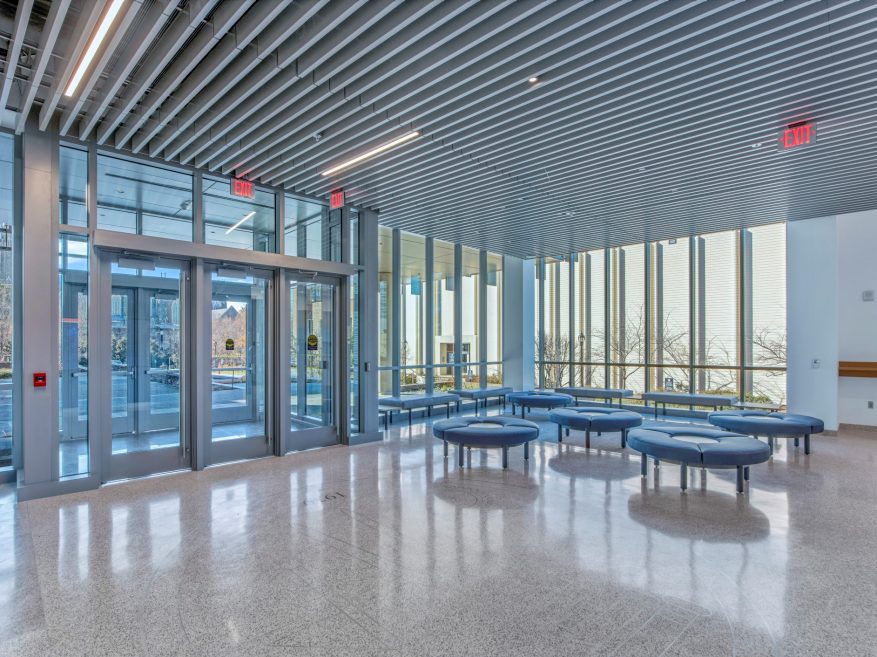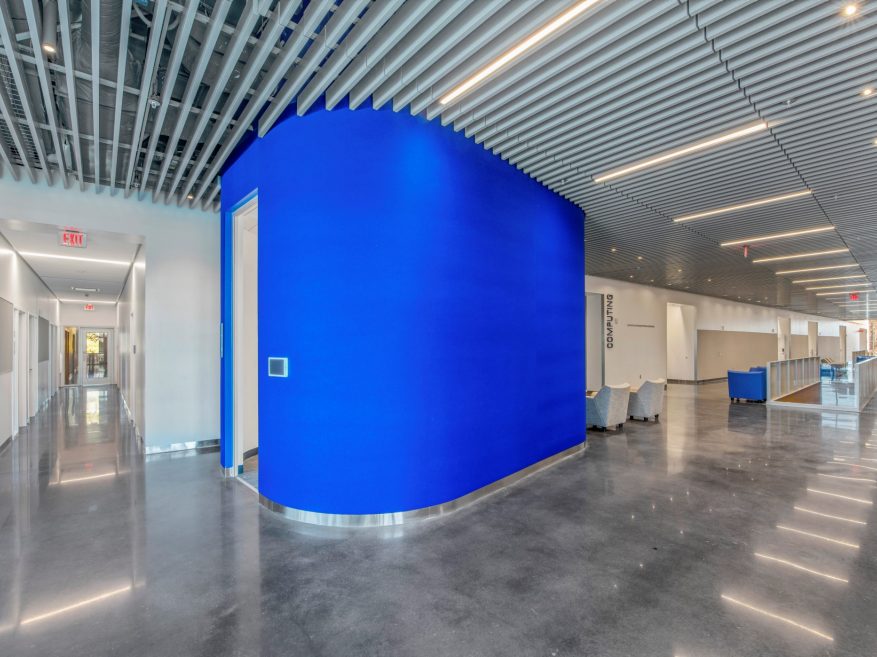 Duke University Pratt School of Engineering, Wilkinson Building in Durham, NC.
Architect: Bohlin Cywinski Jackson | Photo: ©SkySite Images