November 8, 2023
USG's Sweetwater plant is known as 'the place where innovation is borne.' Deep in the heart of West Texas, the plant has a long history as a testing ground and launching pad for automation that helps drive the manufacturing industry forward.
Many of USG's product and process innovations originate in Sweetwater. Half-inch Sheetrock® and Tapered-edge Sheetrock®, both developed in Sweetwater, have become the industry standard and competitors followed USG's lead. And one of the company's more recent product innovations coming out of Sweetwater is Durock® Brand Glass Mat Tile Backer—a product experiencing more than 400 percent growth over the past 10 years. 
While the size, scale and outputs of USG Sweetwater have transformed over the last century, the plant's tradition of excellence and reputation as a pillar of the community remain steadfast. As best stated by USG Sweetwater Plant Manager David Sanchez, "Our ability to thrive derives from the strength and integrity of our employees, and the deep roots we've nurtured here."
To celebrate Sweetwater's centennial, USG recently hosted a series of events to recognize the plants' 250 employees, as well as retirees, community members, elected officials and local organizations that played a role in Sweetwater reaching this enviable milestone.
At the Heart of USG Sweetwater are its People
USG Sweetwater is a great place to work for great people. The plant boasts a highly engaged workforce: more than 15 percent of USG's Sweetwater team has been with the company for more than 20 years.
One of these long-tenured employees is Julian Montoya, who joined USG at age 19. Now employed at the Sweetwater plant for 40 years and counting, he extols the virtues of a supportive workplace: "It's helped me reach all my goals in life that I set forward. I started a family; I have two daughters—put them through school—and now I have grandchildren."
Employees and leadership at the plant make it a priority to train the next generation of USG leaders.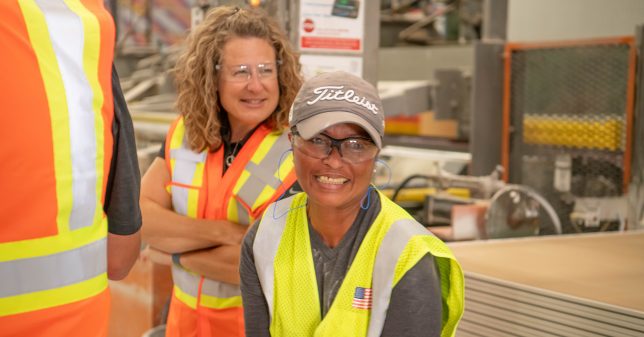 One-quarter of all current plant managers worked at Sweetwater before moving into a leadership role at other plants. With support from state grants, the plant, in partnership with local technical colleges, offers trainings around coaching, mentoring, employee relations, and safety. Sweetwater has an unwavering focus on safety—and the plant's safety record speaks for itself.
Sweetwater was one of the first USG plants to offer a summer hire program—now 20 years running. More than 100 Sweetwater plant employees' dependents have been hired over the past two decades as part of this program.
USG Sweetwater also stays close to its retirees through an annual golf tournament, and gifts them Thanksgiving hams and turkeys each holiday season.
Planning for the next generation
USG's customers rely on products made at Sweetwater to help them build the outstanding places where people call home. And to continue upholding this tradition of innovation and excellence, it requires significant investment.
Most recently, USG announced $80 million in open capital investments which will allow USG to plan for future generations of operations in Sweetwater. The investments at the Sweetwater plant's facilities and 4,500-acre quarry operation include construction of a brand-new mill and warehouse, which are already underway.
According to Sanchez, "These capital investments will allow us to continue to provide 250 well-paying jobs for the foreseeable future and enable us to reduce costs so we can reinvest in our people. The investments will also allow us to continue driving innovation, and support additional technology and production enhancements."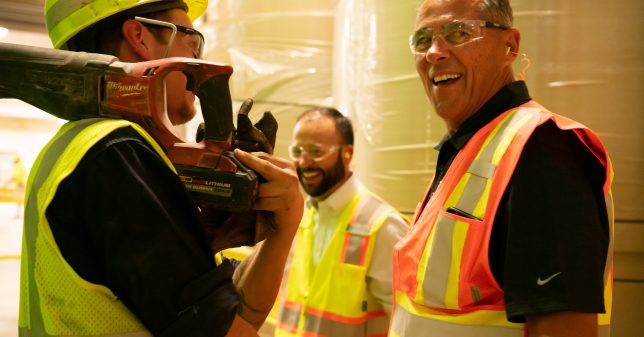 Giving back to the local community
USG Sweetwater is deeply connected to the Sweetwater community and takes seriously its commitment to drive economic growth and support the local community as a good neighbor and partner. Plant employees also make positive change in the community, handpicking a range of local events and fundraisers to participate in.
Sweetwater is a multi-year winner of USG's company-wide annual food drive contest. Since the contest's inception 10 years ago, the Sweetwater plant has donated more than 300,000 pounds of food to the Nolan County Food Bank.
Jimmie Bender, the food bank's director, cited rising food costs and said the facility is serving up to 50 additional clients each month. "Without USG, there is no way that we could do what we do."
USG Sweetwater is the longest consecutive donor of the annual Jaycees Rattlesnake Roundup. Since the event's inception, snake pens are built with donated Sheetrock® and the plant also donates monetarily.
The future remains bright
In reflecting on USG's 100 years of manufacturing in Sweetwater, it's clear the plant's impact on and importance to the community are manifest and enduring.
"With the most recent capital investments and an unwavering focus on safety, engagement and trainings, we have set the foundation for a successful present, which we will build upon for a successful future," explained Sanchez. "This includes a future of continued innovation and new products coming out of Sweetwater."
USG looks forward to embarking on its next century of operations in Sweetwater!