Replacing concrete or steel with wood in the built environment is the guiding principle behind the growing mass timber trend in the construction industry. As a more sustainable and cost-effective alternative to steel and concrete framing, mass timber structures contribute 30% less CO2 emissions than their concrete counterparts.
Aside from being a more renewable alternative to steel or concrete, mass timber is prefabricated off-site, which contains production within a controlled factory setting and can help shave time off the construction schedule once the materials arrive on the jobsite.  Despite its major implications in the effort to build more sustainably, one of mass timber's more unique features raises issues of sound attenuation.
The Sound of Wood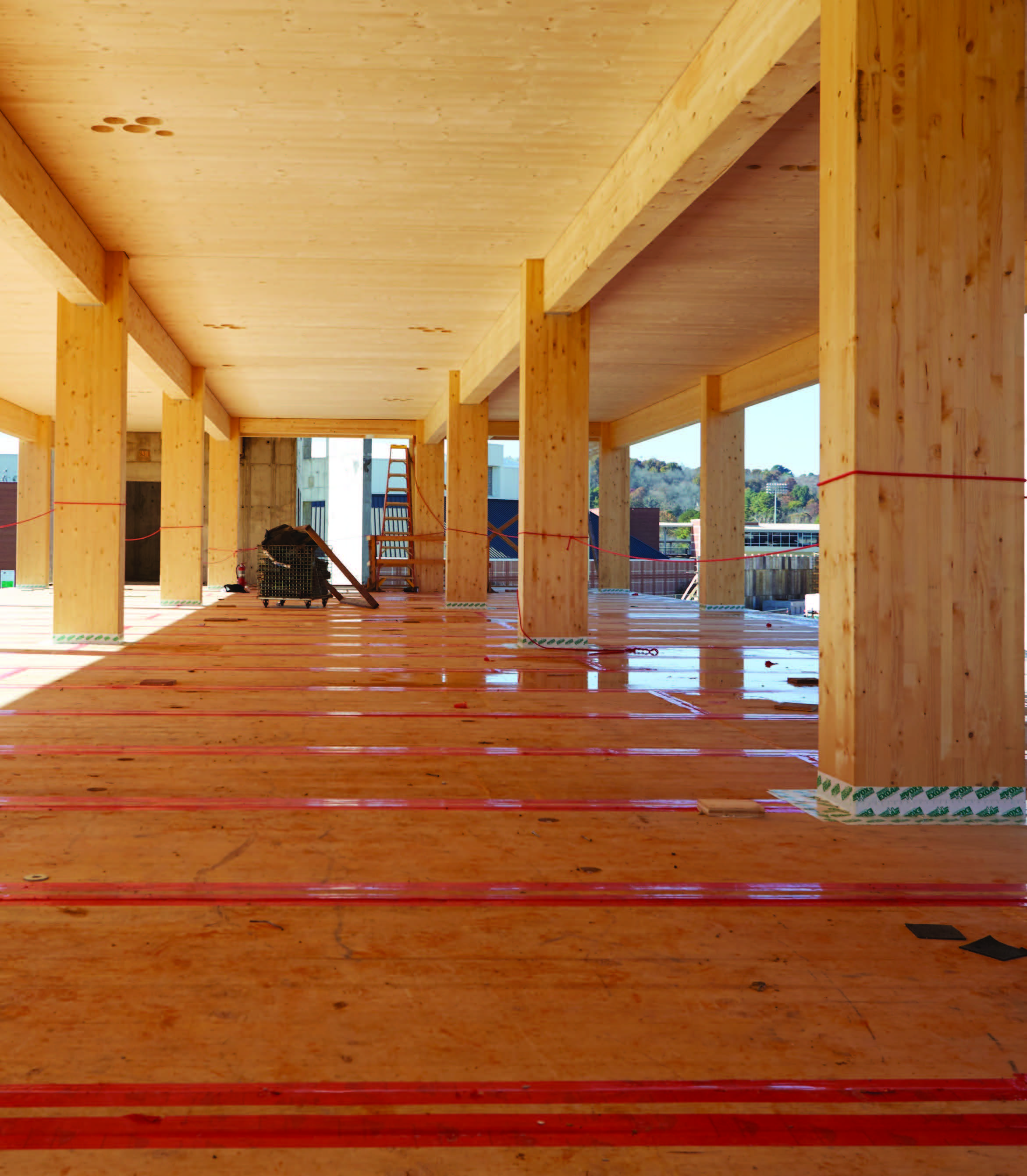 Most mass timber, like cross-laminated timber (CLT), is created by gluing or nailing wood together in layers to create structural panels, posts, and beams. A variation on CLT known as dowel-laminated timber (DLT) is another mass timber production method where, instead of using glue or nails, wood panels are held together by wooden dowels, making it the only all-wood mass timber product.
One of mass timber's main draws is the impressive and beautiful aesthetic of exposed wood interiors.  With wood as the main structural component in its floors and ceilings, any project that opts to construct with mass timber must account for the less dense wood material inherent in this construction method. Lacking acoustical absorption, the exposed wood transmits sound more easily which makes it difficult to meet the strict sound transmission class (STC) and impact insulation class (IIC) code requirements of a multi-family mass timber structure.
There is an overarching belief that sound mitigation for mass timber requires thick, double-layer mat systems that are heavy, difficult to install, and add significant cost to the construction process while also taking up valuable space between floors. Poured concrete is another so-called solution, but concrete must be at least 1-3 inches to achieve sound requirements in a mass timber structure so both options can end up adding additional unnecessary weight to the structure while being cost-prohibitive to boot.
Considering that a poured concrete solution would produce more CO2—roughly 1,370 pounds of CO2 is produced for every metric ton of cement manufactured, according to a 2021 study1 conducted at Imperial College London—there are more effective, well-rounded solutions for this burgeoning construction method.
The USG Solution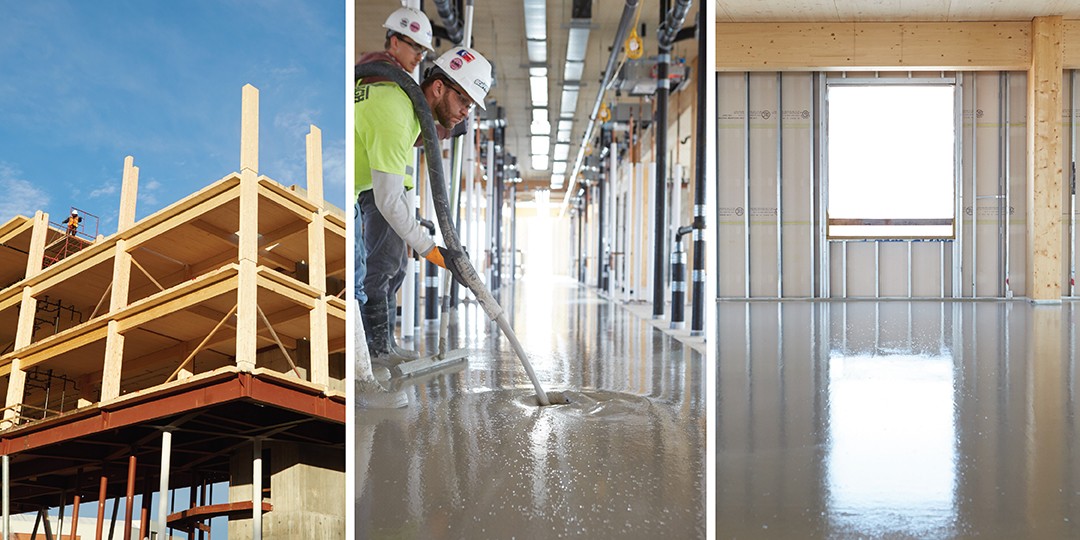 With a history of developing products to meet specific customer needs, USG's innovative Levelrock® Brand SAM-N25™ Supreme Sound Attenuation Mat is designed and tested specifically for mass timber construction.
This product will meet and exceed building code requirements for sound attenuation in mass timber, with independent, third-party testing showing STC and IIC ratings as high as 56/53 with a single, low-profile sound mat. Combine that with a Levelrock® Brand Floor Underlayment to complete the flooring system and utilize USG as a single-source manufacturer for all-encompassing solutions.
Aside from its outstanding performance, this attenuation mat is easier to install and comes standard in 5/16-inch thickness for the same sound performance as thicker competing mats. Combining the mat with Levelrock® Brand Floor Underlayment can speed up installation in comparison to thicker mats and poured concrete, requiring fewer materials and allowing for more efficient sequencing of trades on the jobsite.
USG is committed to working together to find the right solution for your mass timber projects without compromising on acoustic comfort—see how other mass timber projects have benefited from USG's approach to sound attenuation and acoustical consideration below.
Source
1.       Paul S. Fennell, Steven J. Davis, Aseel Mohammed, Decarbonizing cement production, Joule, Volume 5, Issue 6, 2021, Pages 1305-1311, ISSN 2542-4351, https://doi.org/10.1016/j.joule.2021.04.011. (https://www.sciencedirect.com/science/article/pii/S2542435121001975)