The overriding goal of all fire-resistant assembly designs is to mitigate risk, saving lives and property in the event of a fire. Therefore, it's imperative to match products and systems to achieve desired end performance. Understanding proper product applications and the latest technologies available, architects and contractors can avoid costly job re-work and delays, as well as control the potential for greater safety risks within the construction environment.
Fire-rated construction and the benefits of gypsum board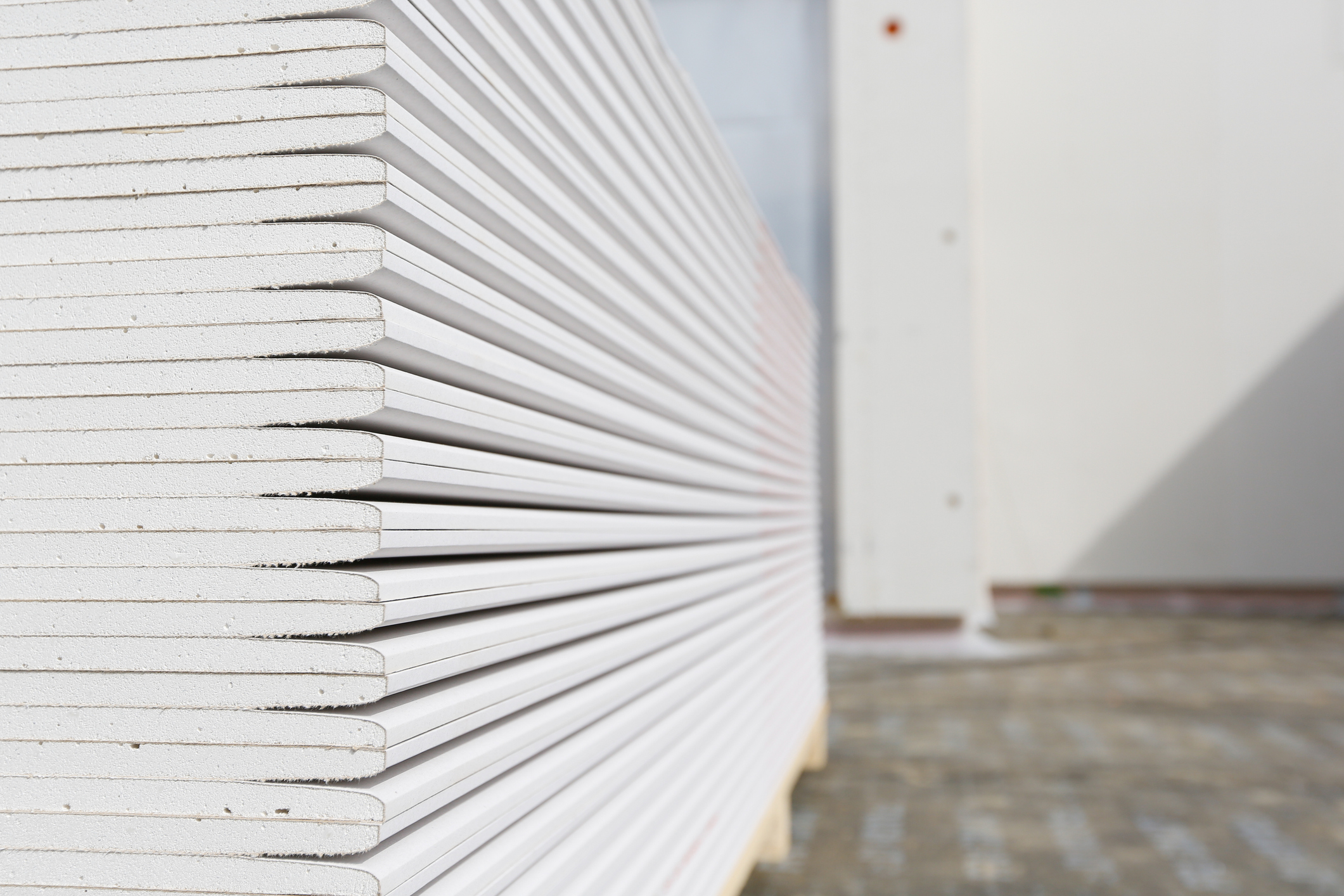 From 2014-2018 there were more than 493k structure fires that were reported to local fire departments in the United States.1 Beyond just active protection, these structures also employ passive protection, such as gypsum panels, to restrict the transfer of heat and fire in the event of an emergency.
Depending on the formulation of the core, different gypsum panels perform different functions and are installed differently in critical components of fire and life safety construction. Understanding these differences is imperative to proper design, installation, and performance in a life-safety system.
Building up post-war America
World War II, the most devastating and widespread war in modern history, devilishly fueled the American economy. Advancements in aviation, electronics, and medicine took off faster than could have ever been imagined. Ultimately, it created a new world at home, with the country wanting to return to the safety of living the American dream—getting married, buying a house, and raising a family.
During this time, there were long periods of rapid growth, and urban areas became more populated, pushing skyscrapers to new heights and architects finessing high-rise multifamily structure living.
The introduction of Type X board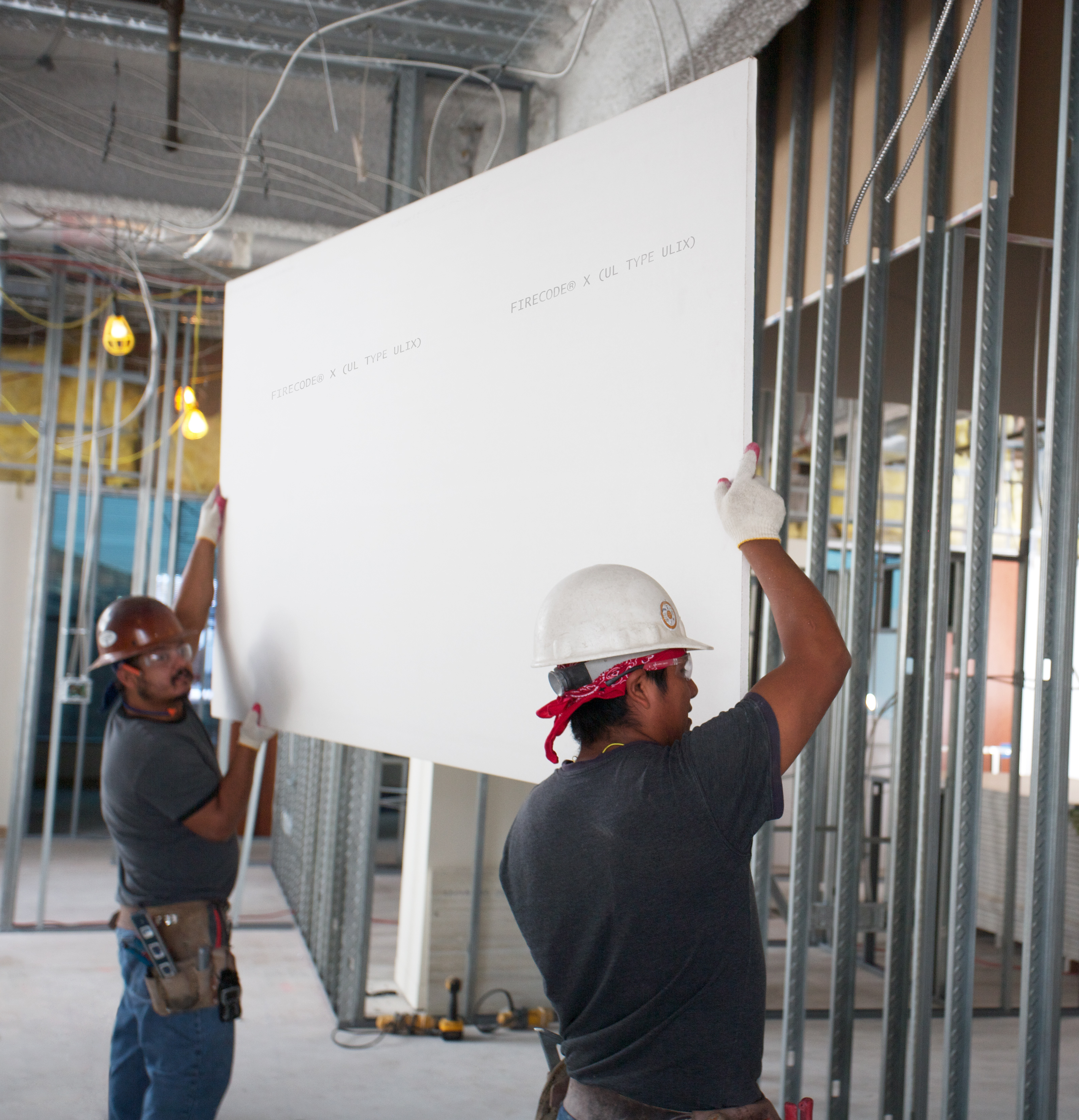 With the growing population, increasing the fire resistance of gypsum panels in the event of a fire was the primary concern of manufacturers during the 1950s. Fire resistance, defined as the property of a building assembly to withstand fire or give protection from it, is first the ability of a building to maintain structural integrity and stability despite exposure to a flame. In applications, like wall and floor-ceiling assemblies, fire resistance serves as a barrier to flame spread, providing temporary refuge and time to escape.
Considerable developmental efforts went into maximizing the inherent fire-resistive properties of gypsum panels. The result was the introduction of a 5/8-inch, "Firecode® Core" gypsum board known as Type X, which increased a standard assembly's fire rating to a minimum of one hour, similar to metal lath and plaster which, for years, was considered the only acceptable one-hour fire-resistive construction.
Even in the early years of the industry, it was apparent that gypsum, by itself, or in combination with an aggregate, was a high-performing barrier to the passage of heat, fire, and smoke for long periods of time2. In Type X board, special glass fibers are intermixed with the gypsum to reinforce the core of the panels. These fibers have the effect of reducing the size of the cracks that form as water is driven off, thereby extending the length of time the gypsum panels maintain their physical integrity under fire conditions.
As America moved into the 1960s, structures continued to grow even taller, making apparent the need for more time for occupants to safely evacuate during a fire emergency.
During this time, USG invented an enhanced proprietary Type X board, commonly referred to as USG "Type C." As with the Type X panels, the core of Type C contains glass fibers, only in a much higher percent by weight. In addition to the greater amount of glass fiber, the core of these panels also includes proprietary modifiers which provide greater fire-resistive qualities. It is for this reason that Type C board became synonymous with ceiling applications, while Type X became the standard for walls—and it's been that way for more than 50 years.
Understanding industry gypsum panel type definitions
To this day, industry stakeholders desire clarification on where Type X and Type C panels can, and should, be used. This begins with an understanding of the different panel Types as defined by the industry.
ASTM C1396, Standard Specification for Gypsum Board, categorizes gypsum board into only two groups: regular and special fire-resistant (Type X). While regular boards are not investigated in regard to their fire-resistive performance, Type X boards are defined by providing a minimum fire-resistance rating when tested as part of a prescriptive wall assembly (identical to UL Design No. U305). It is important to note here that "Type C" is not defined by ASTM, but rather is one used to identify a particular manufacturer's product by Underwriters Laboratories, Inc. (UL).
As there is no formal industry definition for special fire-resistant board beyond "Type X," there are no qualifications as to the performance differences between Type X and enhanced proprietary Type X boards. While enhanced proprietary Type X panels (including Type C) have been evaluated and are approved in more challenging constructions due to their superior fire-resistive qualities, these panels are still, by definition, a Type X, having met the ASTM C1396 minimum requirements as fire-resistant.
So, while it is a common industry assumption that Type C panels are required in ceilings and Type X panels for walls, the use in any given application is not limited by panel Type, so long as the panel has been evaluated and approved for such use.
Advancements in lightweight gypsum board in fire-rated construction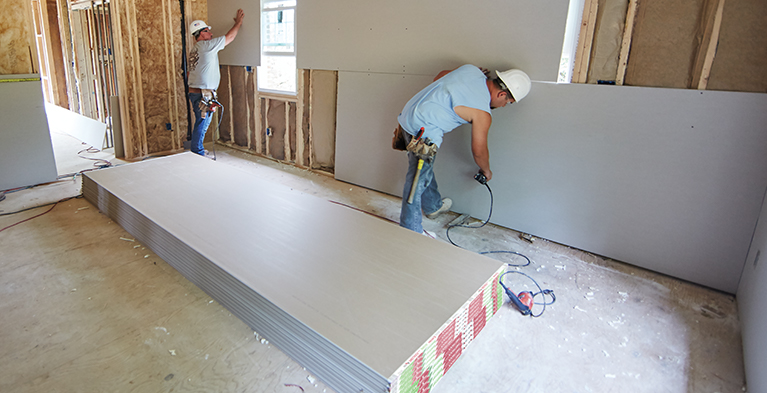 Contractor demand for products that improve productivity and save money, especially as skilled labor and costs skyrocket, has been the driving force for greater innovations. The introduction of ultralightweight panels has been one of the most significant advancements in construction efficiencies since USG commercialized gypsum panels in 1917 under the namesake "Sheetrock®."

Introduced in 2017, USG Sheetrock® Brand EcoSmart Panels Firecode® X (UL Type ULIX™) are ultralightweight 5/8-inch enhanced proprietary Type X gypsum panels that have been formulated at a significantly reduced weight and lower environmental impact.
Similar to USG Type X and Type C, the Type ULIX™ panels comply with ASTM C1396 for 5/8-inch thick and Type X gypsum wallboard. Where they diverge can be found in their revolutionary formulation. Marrying the ultralightweight benefits that contractors desire with sustainable attributes that architects prefer, these panels contain proprietary modifiers (like USG Type C), providing superior fire-resistive performance.
After a comprehensive evaluation, USG Sheetrock® Brand EcoSmart Panels Firecode® X have been approved by UL for fire performance in the most widely specified wall, column, horizontal membrane, and floor- and roof-ceiling assemblies. This effectively eliminates the need for separate Type X and Type C panels on the jobsite, reducing the chance of misapplication. These panels are also the industry's lightest, helping to defy conventional thinking that mass is required to meet fire performance, regardless of hourly rating. This significant weight reduction compared to other Type X and Type C panels helps increase productivity while also decreasing jobsite complexity.
In conclusion…
Building design presents countless challenges, and USG has been designing and testing fire-resistance assemblies for use in commercial and residential construction for over 100 years. When it comes to fire protection, USG established most of the fire testing procedures currently used by UL and has developed approximately 75% of all original UL wall and floor- and roof-ceiling assemblies using gypsum board, making USG the undisputed leader amongst building material manufacturers.
When specifying or installing USG products and solutions, you can have confidence and trust that our systems have been engineered to be the strongest, lightest, and highest-performing systems on the market.
Notes:
1. Estimates based on USFA's National Fire Incident Reporting System and NFPA's Annual Fire Experience Survey