The freedom to design stunning spaces is now within reach with USG Design Solutions.
This suite of made-to-order, modular versions of USG Ceilings Plus products provide an unequaled opportunity to achieve high design ceiling solutions without having to worry about limited budgets or constricted timeframes.
High Design, Short Lead Time
Since Design Solutions products were designed for expediency, the process for attaining your ideal USG ceiling is so simple it can be boiled down to just three easy steps.
It all starts in USG Design Studio, where both 2D and 3D design assets can be downloaded to start creating your ideal layout. Submit your order in the next step by specifying the desired dimensions and finishes, among other options, and receive a built-to-order kit shipped to the jobsite in 8 weeks or less. The final step is installation, and the pre-engineered cassettes can be easily field modified for a perfect fit without sacrificing quality or aesthetics.
The end result is a stunning, customized ceiling without the custom-made price or lead time. Current product offerings include:
Design Solutions – Barz®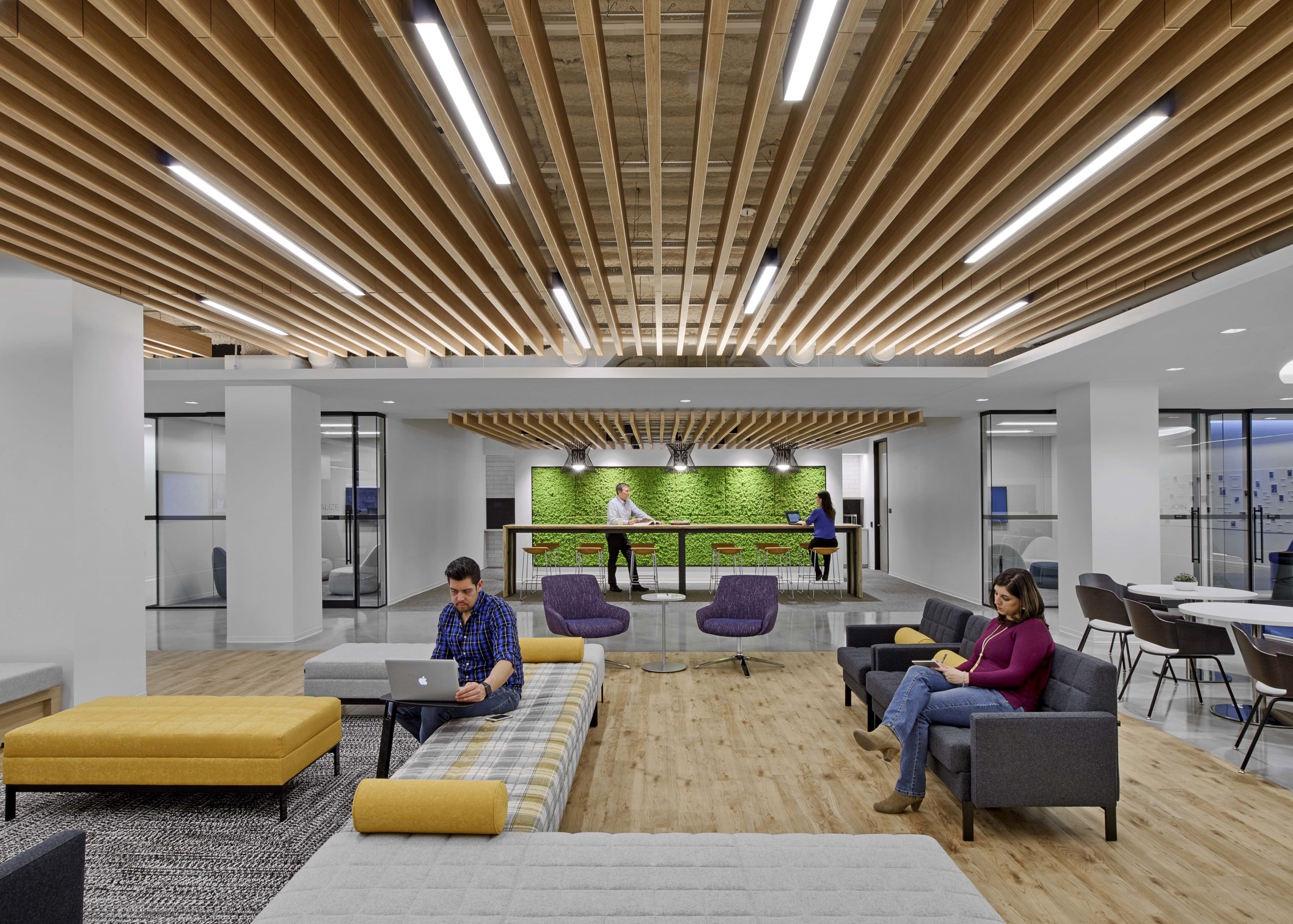 Introduce movement and emotion to your ceiling with Design Solutions – Barz®. These ceiling baffles cassettes come in four layout options and a range of finishes, including Saranté® wood finish, and perforations for added acoustic performance.
Design Solutions – Illusions®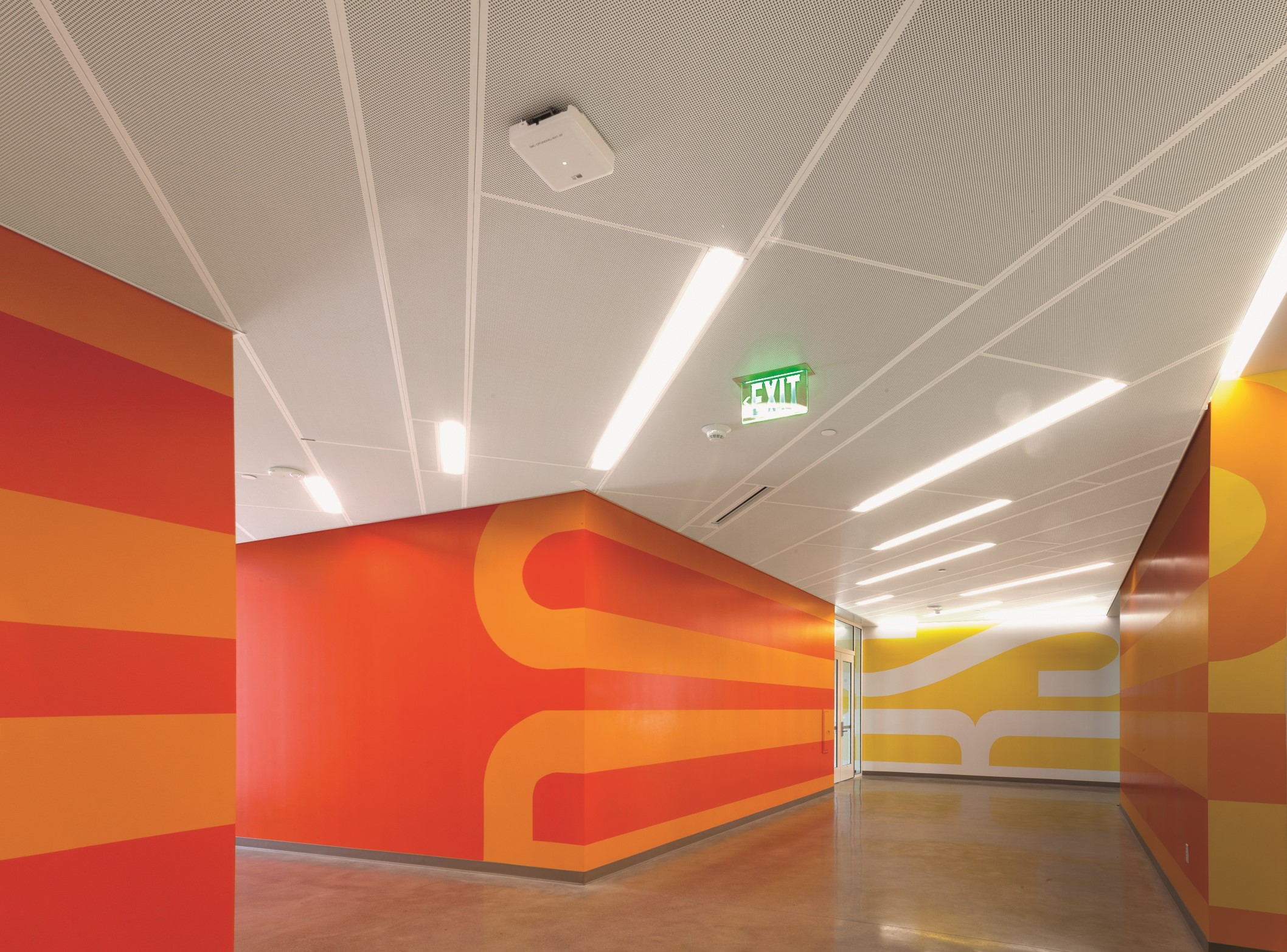 The pre-engineered panels of Design Solutions – Illusions® raise the limits on ceiling design, featuring 5 torsion spring panel assembly sizes in a variety of finishes and perforations. Not only will you be able to design for aesthetics and performance, but you can also incorporate scale, access, and integration in the design without compromise.
Ideal Applications
The benefits of Design Solutions can be extended to many spaces, but these products are especially suited for tenant improvement projects.
Following the turnover of office or retail space to a new lease tenant, the incoming tenant may need the space modified to meet their unique needs. Building owners/managers will begin the process of improving the space to meet those specifications, but this will often need to be completed with a tight turnaround schedule and a narrow budget.
USG Design Solutions offer an excellent solution for this situation, especially with the increasing design savvy of tenants and their desire for open plenum spaces. Utilizing Design Solutions as a main component of the showcase/feature spaces of a commercial building environment can transform the emotion of the space with shape, color, and texture.
What's Next?
With two fully realized modular ceiling solutions available now, there is still more on the horizon. Design Solutions – Colortex™-Barz® offers an acoustic and versatile solution for both ceiling and wall applications and can be expected in Summer 2021. Coming later this year in Fall/Winter 2021, Design Solutions – Planx® will provide a suspended metal ceiling option with snap-in or interlocking linear panels.
The Design Solutions family will continue to grow throughout the rest of this year, all with the intended goal of helping our customers make meaningful and creative ceiling design decisions.
Additional information on USG Design Solutions products can be found here.