The construction industry is incredibly important to USG and a viable career path for many, but especially women. There are many opportunities that are open to women in construction, and USG is proud to observe Women in Construction Week, March 5-11, and show our appreciation for the women who have taken the bold step to enter the construction industry, and to encourage those willing to make similar career moves.
In 1998, Women in Construction Week was introduced by the National Association of Women in Construction as a celebration of women in a male-dominated industry. Through this week of recognition and the efforts of the association, many more women have taken the step into this industry that offers a range of fulfilling careers and opportunities.
This year, Women in Construction Week celebrates its 25th anniversary with a theme of "Many Paths, One Mission" to highlight the different journeys women have taken toward the same goal: strengthening and amplifying the success of women in the construction industry. Learn more about Women in Construction Week here.
Women in Roofing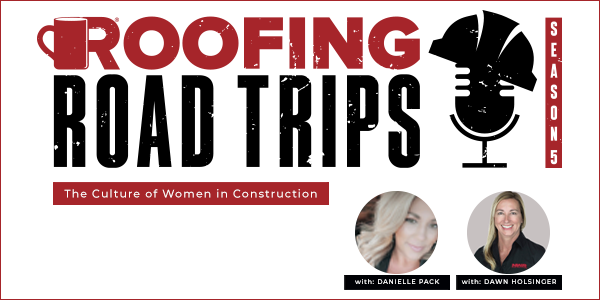 Recently, USG's own Danielle Pack, USG Securock® Regional Sales Manager, and Dawn Holsinger, USG Securock® Manufacturer's Rep, Delta Rep Group, appeared as guests on RoofersCoffeeShop's "Roofing Road Trips" podcast hosted by Heidi J. Ellsworth; all women who are leaders in their respective companies and the roofing industry overall. Danielle and Dawn share their insights on the growth of women in roofing and the construction industry and how to encourage more women to make construction and roofing a career of choice.
Danielle's advice to companies looking to uplift women and support them in high-visibility roles? "My advice to companies would be to look at USG…they are committed to a culture that is one of diversity, inclusion, and understanding. And it's not just something we talk about, they really try to promote it all the time," she says. Innovative thoughts and perspectives are a direct result of ensuring that everyone feels empowered and works together towards a greater tomorrow, and USG realizes that it's not just a matter of ticking a box, but a consistent journey that a company must take for continual improvement.
"We're on this journey and it's going to take some time to get there…support the women within the organization, [offer them] a platform that they can get together and ask questions and feel included…so they're invested in us as much as we're invested into them," said Danielle.
Listen to the Women in Construction Week episode of "Roofing Road Trips" here.
Learn more about USG's Diversity & Inclusion efforts here.